Car Washes Use Mobile Coupons to Make Big Profits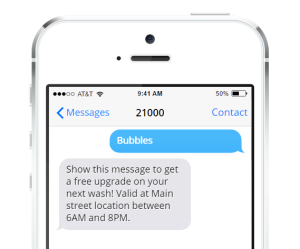 With the ever increasing use of technology, especially smartphones, using text message marketing to send mobile coupons for your car wash is a smart marketing idea. A text message is a simple way to send out timely reminders, coupons during slow times, details about new products or service, and much more. This cost-effective method of advertising is very fast, easy, and effective! Visit our site to see how it works.
Getting Started with Mobile Coupons
To get started you will need to gather opt-ins, these are people in your area that are interested in receiving messages from your business. Gaining this consent is typically very easy; when you signup you will choose a keyword, advertise the keyword and shortcode with some kind of incentive and invite people to opt-in. This can be as simple as "Text Bubbles to 77948 to get a free upgrade on your next wash." By offering them something it gives them that incentive to send the initial opt-in text. When that first text is received the system will automatically capture the phone number and add them to your contact database. 
Each opt-in will immediately receive a legal default message letting them know they have opted to receive messages from your company, it gives an approximate number of messages per month you plan to send as well as instructions for texting help for help and stop to cancel. This message will be followed by your unique autoresponder message that can say something like, "Thank you for joining our texting list. Show this text to receive a free upgrade on your next wash. Offer expires in 1 week." Advertise your keyword and short code on all printed advertising, websites, social media sites, at your car wash locations, or anywhere that potential clients will see the invitation to opt-in.
Sending Text Messages to Your Car Wash Customers
Once you have clients that have opted in you can send them messages at anytime. You don't want to send them so frequently that they become annoying but simple reminders like "Salt eats the paint on your car, come in today or tomorrow for $1 off any wash" or "The forecast shows sunny skies for the next 7 days! Come in today and try out our new touch-free wash". You don't have to offer a discount every single time, sometimes just reminding them they need a wash and that you are the best option is enough to keep your business name at the front of their mind and get them thinking about the need to wash their car.
Increase the Size of Your Texting List
An easy way to get  additional opt-ins is to do a giveaway. You can do something as simple as a chance to win a free premium car wash. To do this you would setup a group and create an extension, such as the word win, and then instruct people to "Text Bubbles.win to 77948 for a chance to win a FREE premium car wash." This will copy all opt-ins to a separate group. At the end of the contest period you can do a random select from that group and choose how many numbers you want to receive the winning text. That text will let them know they've won the free car wash and tell them how to redeem it. 
As you can see, there are many different options for using text message marketing to advertise you car wash. Statistics show that the redemption rate on mobile coupons is much higher than any other type of coupon. Most people have their cell phones on them at all times and will read your text message within a matter of minutes after you send it. The coupon remains on their phone so they don't have to remember to bring it with them and they can use it at the time that is most convenient for them.
Go to https://www.txt180.com/signup.php to sign up for a free trial and get started on your text marketing program today!
Originally Posted on: May 22, 2015

Posted in: SMS Marketing Uses by Industry
Tags: car wash mobile coupons, mobile coupons, text message marketing for car wash