Increase Salon Business with Mobile Marketing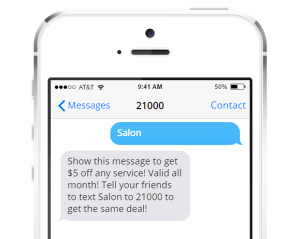 SMS & mobile marketing provide a simple way for salons to keep in touch with their customers and to advertise to potential new clients. SMS stands for short message service and typically operates through a shortcode, a shortened phone number used for marketing, informational, and alert messages. SMS marketing, mobile marketing, and text message marketing are often used interchangeably. The great thing about this type of service is that the messages go out instantly and are delivered to a person's device within a matter of seconds, just like a regular text message.
Get Started with Mobile Marketing for Salons
It is easy for a salon to get started with a mobile marketing or sms campaign. Once you have signed up and chosen your keyword you will need to advertise the keyword and shortcode to gather opt-ins. ALL sms marketing is 100% permission based. You cannot take a list of phone numbers and start sending messages, even if they are your current customers. You can contact your current customers from your personal phone, email, social media, or other system and invite them to opt-in by texting the keyword to the shortcode. For example, if your keyword is Salon you would say "Text Salon to 77948" and follow it with information about what type of messages you will be sending, "to get appointment reminders and special discounts and offers". When the initial message is received the system will automatically capture their phone number and add it to your contact list.
Another easy way to get opt-ins is to offer a special or even a giveaway. Offering a discount to everyone that opts-in gives them an immediate reward for taking the time to send the message. Another option is to do a giveaway, most people will send a simple text message if it gives them the opportunity to win a valuable product or service for free. This way you aren't giving everyone a discount, but each person has the chance of receiving something of even greater value.
Sending SMS Messages to your Salon Clientele
As with any marketing, you don't want your messages to be annoying. Send messages that are timely and have real value. Most people will appreciate an appointment reminder, discount offer for a service they use, or an occasional message about a new product or service. As you can see, there are many text messaging uses but be sensitive to the number of messages you are sending in a month and also the time of day that you are sending the text message. Don't send messages too early in the morning or too late at night.
To make your messages more personal you can create groups and send promotions to clients for the specific service they use, e.g. tanning, massage, hair, etc. The more applicable the message is the more value it will have to the recipient. Every message will have the instructions of Stop to Cancel at the end so anyone can opt-out at anytime. This assures them that they can stop receiving the messages at any time, it also means you need to make sure you are making the messages valuable to your client base.
Originally Posted on: May 28, 2015

Posted in: SMS Marketing Uses by Industry
Tags: mobile marketing, mobile marketing for salons, sms marketing