Text Message Marketing for Events/Venues – Concerts/Bands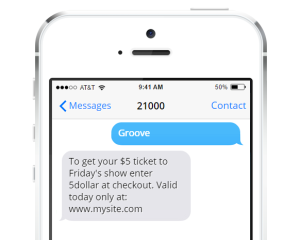 If you are an event coordinator, venue manager or handle marketing for concerts or do publicity for bands, using direct marketing techniques like Text Message Marketing for events/venues or concerts and bands is one of the most effective ways to directly reach out to those interested in booking your venue, attending your event, concert or finding out new info about a band. Keep reading to learn more about how you can effectively use text message marketing to promote your event, venue, concert or band.
Ideas for using Text Message Marketing for Events/Venues – Concerts/Bands:
If you are new to using text message marketing, it can be confusing to know where to start. Here are a few ideas to consider if you are wanting to try out text message marketing for your event, venue or concert.
For Venues, using text message marketing can be a great way to reach out to potential customers. Consider the purpose of your venue. Do you host primarily weddings or birthday parties, family/class reunions, etc.? Try establishing an opt-in list full of customers looking to book a venue. Many who are shopping around for venues for an event, may attend expos like a bridal show. If you are already planning on marketing at the bridal show, be sure to have a way for your customers to feel incentivized to give you their mobile number so you have it on your text message marketing list. For example, offer 10 percent off booking their first rental by signing up with their mobile number and email address to get on your text message and email blast list.
For events and concerts, effective text message marketing might include an opt-in option for text messages when your customer buys concert tickets or band memorabilia from your website.
For bands, text message marketing is a great way to let your fans know about upcoming concerts, events, ticket sales, fan meet and greets and more.
Steps for using Text Message Marketing:
Choose a catchy keyword. When you first set up a text message marketing campaign, you have to pick a keyword that represents your business, event, concert, band, etc., but is also easy to remember for your subscribers and can be quick and short to place on marketing materials. For example, a concert festival called Groove Fair might choose the keyword Groove and can use that word on all marketing like social media posts and fliers to help customers know they can opt-in to a text message marketing campaign to get deals or find out about upcoming promotions.
Promote that keyword. As we just mentioned it is a good idea to spread the word in all of your marketing areas about your new text message marketing campaign. For example, offer a Facebook giveaway. "$5 tix to Friday's show for limited time! Text Groove to 87659 now to redeem ticket voucher.
Send messages and begin a text message marketing campaign. After you've gotten a list started of people who have opted in to receive text messages, you can begin your campaign. Promote upcoming events at your venue, concert dates, ticket sales, holiday features and more!
Increase sales. When it comes to marketing, one of the best ways to see the fastest increase in sales is through direct marketing to customers. It is easy to track how effective it is and how well it brings in new customers. Using a text message marketing service like what is offered here at TXT180, an increase in sales can be achieved through easy to use and affordable marketing techniques like text message marketing.
Ways to get more Opt-Ins for your Event or Venue and for Concerts and Bands:
Before you can begin using text message marketing, you have to know how to bring in potential customers to opt-in. In addition to spreading the word about text message options to reach out to your customers through your other marketing efforts, you can incentivize customers to sign up by offering discounts, special sales and giveaways through text message marketing to help build your opt-in list.
Conclusion:
As you can see, text message marketing for events, venues, concerts and bands can be a great and easy way to increase sales, build a customer base and reach out to potential new customers. There are so many ways to use a text message marketing service like what is offered here through TXT180. The direct marketing technique is effective for a variety of businesses and services.
Originally Posted on: March 30, 2016

Posted in: SMS Marketing Uses by Industry
Tags: concert sms marketing, event text marketing, text messaging for bands