Text Message Marketing for Retail Stores and Outlets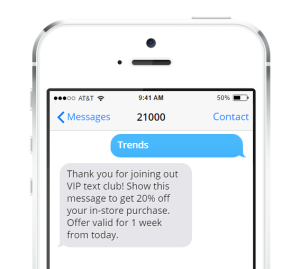 Text Message Marketing for retail stores and outlets can be a hidden little marketing secret for many business owners and managers to help promote upcoming sales, store events and holidays to their target customers. Keep reading to learn more about how utilizing text message marketing services, like what is offered here at TXT180, can benefit your store or outlet business.
Text Message Marketing for Retail Stores and Outlets Stats:
According to recent numbers, text message marketing ad spending grew more than 100 percent in 2013 alone and has continued to climb at a steady rate in the industry ever since.
Stats show that 95 – 98% of text messages are read within minutes of the mobile customer receiving the text.
Other recent statistics indicate that 30% of consumers interact with a brand via text message, which means not only are they receiving the text, they are cashing in on the deals they are receiving from stores, outlets, businesses, etc.
In a recent poll, 70 percent of customers reported finding all types of push notifications, including order updates and location-based messages like text messages, to be valuable.
How to use Text Message Marketing for your Retail Store or Outlet:
Not only is text message marketing helpful for retail store or outlet owners to be able to promote their business, but it is also a useful tool in helping establish a customer base by keeping in contact with customers, conducting polls, getting interest and finding out what customers are looking for when it comes to your store or business.
Build a text message marketing campaign. To effectively conduct any kind of text message marketing campaign, first it is important to choose a keyword that reflects your store, outlet or business. For example if you run a children's clothing store called Kid's Fashion & Trends, you can choose to use part of your business name like Trends to be your keyword to use in every text message so customers can opt in to receive texts and alerts.
Promote your keyword. As previously mentioned, it is important to use the keyword you've chosen in all of your marketing to make sure your customers and potential customers know you offer promotions, sale info, holiday specials and upcoming event offers via text message marketing. Try: "Text Trends to 56909 to get 20 percent off your in-store purchase!" You can use this campaign and keyword anywhere you market, including on in-house fliers, on your social media sites, pictures, coupons, etc.
Begin sending messages! After you've begun to build an opt-in list with your customer list and potential new customers, you can begin your text message marketing initiative. Use these messages to promote upcoming events, sales, promotions, holiday events, new product releases and more! One example you could try: "Kids Fashion and Trends' Memorial Day blowout sale kicks off Sat.! Door Busters, prizes, discounts and more!"
Increase Sales. You can see an increase in sales by promoting your business, events, sales, etc. through direct text message marketing.
How to get more Opt-Ins for your Store or Outlet:
If you really hope to see an increase in sales and in your customer base, it is imperative to take the time and energy to build your opt-in list for your text message marketing campaign. Any retail store or outlet can try out a variety of ways to help increase their number of opt-ins. For example, at checkout, the cashier can ask the customer if they would like to receive text message alerts and ask for the customer's mobile number. To incentivize the customer to sign up, they can offer a 10 percent off opt-in message that is sent to the client right away.
Test out your Marketing:
Once you've established an opt-in list and have continued to build a text message marketing campaign for those customers, it is important to realize how you'd like to go about using text message marketing. Do you plan to send weekly texts promoting a sale, new product, discounts, etc.? Or would you like to reserve those text messages for every other week messages and for special occasions and promotions? It really is up to the preference of the management, owner or marketing team how to go about using this type of direct marketing for your business. The benefit of using a service like what is offered at TXT180, is that it can be easily customized to fit the needs of each individual business and can be adjusted as needed.
Conclusion:
As you can see, there are so many ways to use text message marketing for retail stores and outlets. Any store owner can try out the benefits of using text messaging for customers and to build clientele and increase sales through establishing a text message marketing campaign.
Originally Posted on: March 30, 2016

Posted in: SMS Marketing Uses by Industry
Tags: mobile coupons for retail stores, sms uses for outlets, text marketing for retail stores