Text Message Marketing for Restaurants
SMS Marketing for Restaurants is the most cost effective & quickest method to reach your customers. Below, you'll see how large restaurant chains are using the same technology we offer at TXT180 with amazing result!
Text Message Marketing for Restaurants Stats:
1) Taco Bell fast food had 13,000 mobile opt-ins in the first 5 weeks.
2) Papa Murphy pizza SMS ads had a 17.9% return rate.
3) Subway restaurants had a 9% SMS coupon redemption, compared to 1% with direct mail.
4) Pizza Hut pizza mobile marketing was 142% more efficient than other marketing channels.
5) Carl's Jr. hamburgers generated $14 in new sales for every $1 spent on their text marketing campaign.
As you can see, the potential with text message marketing for restaurants is very significant! It's more cost effective than direct mail, print ads, and has up to 10X higher coupon redemption rates!!!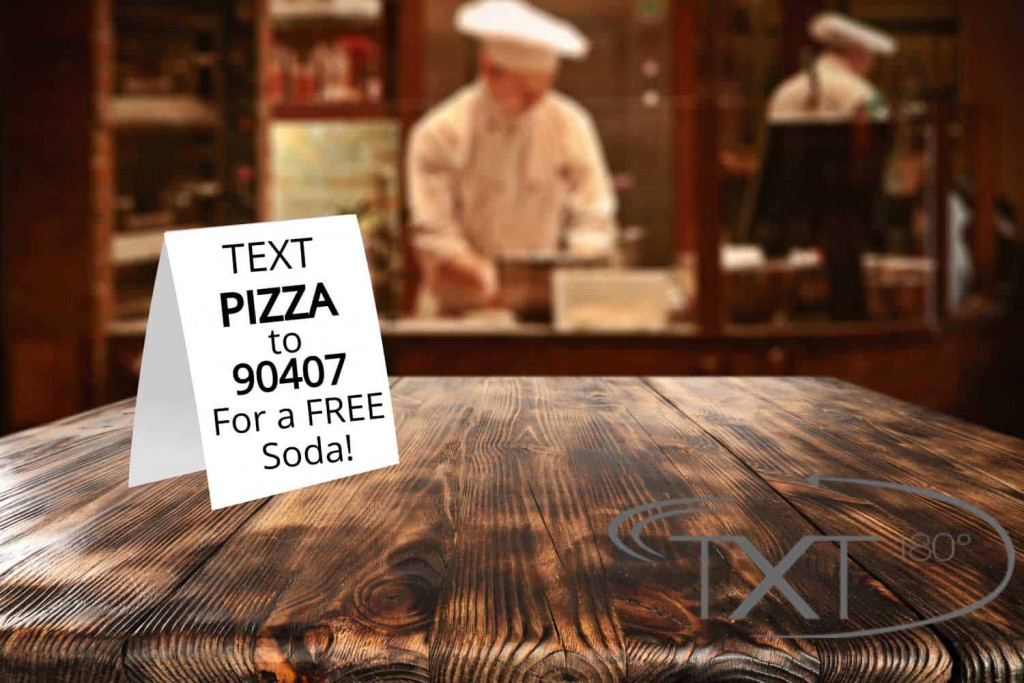 Restaurants Use SMS in 4 Steps
GET a keyword at TXT180 – if your restaurant is Joe's Pizza try keyword JOES or PIZZA.
PROMOTE your keyword – advertise: Text PIZZA to XXXXX to get a "free appetizer" or "free soda" for opting in to join your list at register, on receipts, or table tents. Advertise your keyword on social media, print ads, website, radio, and more! Your auto-response message can include instructions to show cashier/waiter text to receive "free appetizer".
SEND messages to list – slow day specials, special events, or any mobile coupon like "Joe's Pizza Special Today only get $5 off orders $20 or more! Valid 01/01/2016 Come See Us!"
INCREASE sales – customers come in more often because they think of your restaurant more often.
How Restaurants Get More Opt-Ins
Gathering opt-ins is the most critical part of starting your restaurant text marketing campaign. There a MANY ways to accomplish this and we recommend using as many of them as possible. If you have a business Facebook, Twitter, or other social media account use it! But don't limit it to that either. Use table top tents, signs at the register, receipt ads, and have waiters and waitresses promoting the campaign. If you have TVs that run ads make sure you have an ad for your text marketing campaign on there as well. Be sure to add the text marketing opt-in info to any current advertising you have as well.
It is important to make sure you include the necessary verbiage on your opt-in signage. The most important part is making sure it is very clear what word they need to text and what number they should be texting it to. If you choose the keyword pizza you may want to start by saying "Text Pizza to XXXXX"  Making the word and shortcode bold draws attention to what the person actually needs to do. Then you will want to follow that up with some kind of incentive like "to get a free dessert with your purchase".
For tips on getting more mobile opt-ins – contact us!
What Types of Text Messages to Send Customers
Once you've gathered the opt-ins, the next thing you need to determine is the frequency and type of messages you want to send to your contact list that will be valuable to the customer. The redemption rate will depend a lot on the value of your offer. Did you sent it at the most applicable time, are you offering something that will draw restaurant customers in but not undercut your profit? You might choose to send a weekly special offer or you might use sequential messages to send a different offer to people based on their opt-in date, this distributes the messages so that you don't have everyone getting the exact same offers on the same days.
Try a few different types of mobile marketing messages for your restaurant and evaluate the response rate. You can even use the text messaging software to do a quick poll with your customers. A poll would let you ask them what type of offers they prefer. Options could include: a free drink, a free dessert, buy one get one 1/2 off entrees, or lunch specials. Or talk to your customers that redeem the SMS coupon, or other customers that may not be participating to see what their hesitation is.
Get ideas on the best call-to-action or message types – contact us!
Conclusion
SMS Marketing by text messaging customers for alerts, specials, and restaurant text coupons is EXTREMELY effective. The response rates are over 10 times that of standard clip coupons. Customers receive your message immediately at a lower cost. You can put your SMS call to action on all convention marketing for them to get the coupon requiring them to opt-in so if they never use the coupon – you can approach them later!
Originally Posted on: March 3, 2016

Posted in: SMS Marketing Uses by Industry
Tags: restaurant loyalty program, restaurant sms, sms marketing, text message customers, text message marketing restaurants