Text Messaging for Universities & Colleges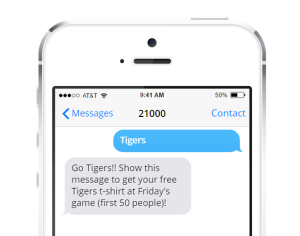 SMS Marketing for Universities and Colleges is a great way to reach out to students, faculty and administration with vital information about fun campus happenings, safety alerts, schedule information and more! Keep reading to find out how you can use the SMS Marketing technology we offer at TXT180 to effectively market, promote and inform students campus wide at any university or college.
Text Message Marketing for Universities and Colleges Stats:
Today's average college student no longer uses email as a primary source of communication, but nearly 80 percent text in class! Text message marketing can result in a 98 percent open rate versus a 15-20 percent open rate for email.
In the technology-heavy world we live in, it should be no surprise that 91 percent of all Americans have their mobile device within reach throughout the day and night.
In the college student demographic, 90 percent of texts are opened and read within the first 15 minutes upon receipt. Follow up texts take a mere 90 seconds!
Ways to use SMS marketing on any University or College Campus:
Because a college or university isn't just an institution of higher learning and it's not just a business, there are even more ways one can use text messaging technology, like what we offer at TXT180, to advertise, notify and inform.
College administrators, those in charge of student life, safety and campus happenings can utilize text message marketing to inform students and other teachers, staff and faculty about upcoming campus events, student activities, changes in schedules, holiday information, campus closures, safety issues and so much more!
In addition, college clubs, sororities, fraternities, college book stores, and any other campus organization should take advantage of the ease of use SMS marketing technology provides to inform classmates about upcoming events, promotions, rush week activities, student elections, fundraisers, recruitment activities, etc.
– Steps to use Text Messaging for Universities and Colleges:
Pick a keyword at TXT180 – Make sure it is something that well represents the school, organization or business. For example, a university with the mascot Tigers, could use TIGERS as a way to promote upcoming games, spirit events and more.
Promote your keyword in all high-visibility areas around the university or college campus. This is helpful in getting more people to opt in to your text message marketing campaign. Something like: "Text TIGERS to 91504 to get a free Go Tigers t-shirt at Friday night's football game!" It's helpful to remember that you can use this keyword anywhere you market to your students. Make sure there are fliers in the bathrooms, on the cafeteria tables, walls and doors as well as campus bulletin boards and dorm common areas. Think of your demographic – Put it on social media – Facebook, Twitter and Instagram. Encourage students to opt-in through any marketing channels you already utilize.
Send messages and start a text campaign after establishing an opt-in list of subscribers to your text messaging list. These are the people you'll be sending information to promote upcoming events, plays, sporting events, performances, holiday events, campus happenings and more. Since many college students might be trying to save money and are always looking for a good deal, keep in mind that mobile coupons are a great way to bring in new interest through SMS marketing. For example, "Get a BOGO deal on tickets to the drama club's performance of Hamlet Saturday. Valid 04/10/2016 Bring a friend!"
Increase sales or interest by keeping your text campaigns regular and frequent. Expand your subscriber base through regular campaigns by reminding your students that you are there!
Conclusion:
Text messaging for universities and colleges can be extremely effective, especially given the demographic. This generation of students has grown up knowing and using text messaging as a primary source of communication. Receiving deals, coupons, information, alerts and more is a great way to reach out to those who use text messaging so regularly. With an almost 100 percent open rate, you can be sure the texts are being read by those who need the information. Sign up today for only $1 and find out how SMS marketing can benefit you and your college or university!
Originally Posted on: March 11, 2016

Posted in: SMS Marketing Uses by Industry
Tags: sms marketing for schools, text marketing for universities, text messaging for colleges