Best 6 Ways an Auto Shop Uses SMS Marketing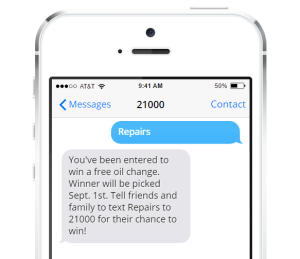 There are a number of ways for an auto repair shop to use sms marketing. SMS marketing is also known as mobile marketing or text message marketing. The service is run through a shortcode or a shortened phone number, the number used by TXT180 customers is 77948. As an auto repair shop you will start by choosing a keyword, we recommend something simple like repairs or the name of your shop. Simple words that are easy to spell will leave less room for error and make it easy for your customers to opt-in and be added to your texting list.
The keyword is critical because it facilitates all of your opt-ins, this initial opt-in is required before you will be able to send a message to anyone. The laws regarding text marketing are very strict in relation to permission. You cannot load a list of phone numbers and start texting them right away, regardless of whether or not they are your current customers. Specific permission for text messaging has to be received from each individual phone number,  the easiest way to do this is to request they text the keyword to the shortcode (e.g. "Text repairs to 77948"). By doing this they are giving that explicit permission and their phone number will be automatically added to your contact list.
Once you have started getting some opt-ins you will want to decide what type of sms marketing messages you want to send. Do you want to tell customers about special deals you are offering or a new service you have added, or do you simply want to use the service to remind customers about an upcoming appointment and let them know when a job is finished?
Best 6 Ways Auto Shops Use SMS Marketing
Scheduled maintenance reminder
Appointment reminder
Service complete notice
Send discount or coupon offers
 Tell about promotions or specials
Get feedback on their service experience
To fully maximize the benefits of your sms marketing campaign, we would recommend using the system for both. You could even do a giveaway as an incentive to help gather opt-ins. As an auto repair shop you could invited people to text in for a chance to win a free oil change. This is a service everyone uses and if all they have to do is send a simple text message for the chance to win, you'll likely get a very good response rate.
You may be wondering how to let people know about the giveaway; adding a simple line of text to all your current advertising is a great way to invite people to participate. A simple phrase like, "Text repairs to 77948 for the chance to win a free oil change" provides the information they need to participate. For people that come into your shop, tell them about the giveaway and invite them to opt-in while they are there. Take advantage of social media and use Twitter, Facebook, Instagram, or any other medium in which you have a business presence. If you do any type of printed advertising you will also want to use those opportunities to help you gather opt-ins. Check out the linked post to see advertising requirements for your printed ads, to ensure you are keeping up with all current mobile marketing regulations.
After you have built up a list of contacts make sure you are using your sms marketing to keep your customers engaged. You can send a mobile coupon for a discount off of a future service to your entire list, or create individual reminders for clients that need to schedule their next visit and offer them a discount if they mention the text message. There are many different text marketing uses for your auto repair shop. Get creative, talk to your customers about what they want, and then give some things a try and see what works! You can work on fine tuning the details as you go along the main thing is to get started gathering your opt-ins to build a solid contact list.
Originally Posted on: June 9, 2015

Posted in: SMS Marketing Uses by Industry
Tags: auto shop repair marketing, mobile coupons, sms marketing, text message marketing