Top 5 SMS Uses for Non-Profits & Fundraisers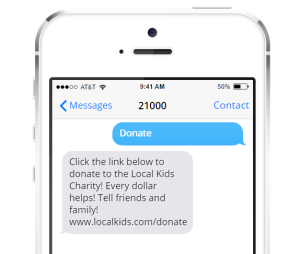 SMS (short message service) technology provides the ability for a business or organization to send a mass text message to a list of subscribers that have given explicit permission for their mobile phone number to be used for such a purpose. In this article we will be taking a look at the top 5 ways that a non-profit organization can use sms messaging.  If you are a charity or non-profit organization, read this post to learn how you can maximize your reach using text message marketing software.
Popular uses of bulk messaging include:
Fundraisers – text a direct link to a donation page
Event Reminders – send a day-of reminder about your events
Project Updates – let community members now how a project is progressing
Call for Volunteers – ask for help with a special event or seasonal project
In-house Deadlines and Reminders – send meeting reminders, project deadlines, and other reminders to your staff
SMS Messaging for Fundraisers
Many non-profit organizations periodically hold fundraiser events to get money for a special project, to help with operating costs, or to fund a special event. The success of the fundraiser lies in how many people you can reach and how easy you make if for them to donate. SMS messaging makes is very easy for people to donate to non-profits, let's take a look at how it works. First, you need to select a text marketing provider and signup for a unique keyword on their shortcode (a shortened phone number the messages are sent from). You will then tell people to "Text Donate to 77948 to help local kids in need", in this example donate is the chosen keyword and 77948 is the phone number they text it to. Create an autoresponder message that will gives a direct link to a page where they can donate, this message is sent every time someone texts the keyword to the shortcode. Autoresponder messages are limited to 160 characters so we recommend using a URL shortner (such as goo.gl or bit.ly) and include that with a message that says something like, "Thank you for your interest in helping XYZ charity with this special project, click the link to donate now."
To gain permission to text people in the future about other fundraisers for your non-profit, asking for volunteers, or about special events in your area, they will also need to receive a legal default message. This message will say "You have opted to receive alerts from XYZ company. Up to X messages per month. Reply Help for help or STOP to cancel. Msg/data rates may apply." By sending this message you will be constantly building a contact list of people that have interacted with your charity or organization and that have agreed to receive text messages from you. With TXT180 the legal default can be combined with your unique autoresponder message using a feature called Optional Tagline, as long as the entire message does not exceed 160 characters.
Mass Text Requesting Volunteers
After building a list of subscribers for your non-profit you will have the ability to login to your account and send messages to your contacts. Perhaps you have a special holiday event coming up and need help gathering supplies, serving meals, or helping with cleanup. If you have a list of phone numbers of 200 people in your area that has worked with your charity before, imagine how great it would be to type up a short message requesting help and have that message delivered to the personal cell phone number of those contacts within a few minutes. The message can contain a link to your website where they can sign up or get more information or you can include a phone number they can call, etc. During the holidays and winter months most shelters and food banks are in desperate need of volunteers and additional supplies. An sms message is the perfect way to get in touch with people that are interested in helping your organization.
Bulk Text Event Reminders
Use your sms service to send project or event updates. Again, just have individuals text the keyword to the shortcode. You can set up different keywords or use the free group option to categorize contacts so that you are only texting people involved in a specific event. Create a separate group for volunteers directly working on the project and another for community members that you want to remind about date, time, and other event details. With TXT180 you can have unlimited groups so you can create a group for your direct staff, specific departments within the organizations, or any other criteria you choose to create a group for. Every time you create a message you select who the message will go to. Select a group, or several groups, all contacts, or all contacts that are not in a group.
These are just a few ways your can use an SMS service for your non-profit organization, charity, or fundraising event. Visit our website for more details on how it works or give us a call at 877-989-8180 to talk to a friendly support representative to discuss how non-profit text marketing can work for you.
Originally Posted on: December 16, 2015

Posted in: SMS Marketing Uses by Industry
Tags: bulk sms messaging, mass messages for non-profit, text message for charity