Text Message Marketing for Nightclub & Bars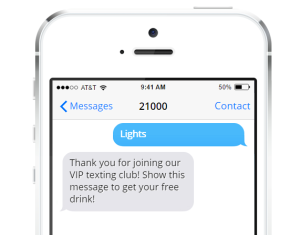 SMS Marketing is one of the most effective ways for nightclub and bar owners to see quick and easy results when building a strong customer base and driving more business to the establishment. Read on to find out how large nightclubs, bars and other businesses are using the power of SMS Marketing tools, just like what is offered here at TXT180, to grow business and see a higher ROI (return on investment).
Text Message Marketing for Nightclubs and Bars Stats:
It only took TAO nightclub three weeks to amass a 2,000 person subscriber list. This brought in thousands of dollars in revenue for one night with just one SMS marketing campaign.
PACHA New York's SMS subscriber list yielded a 15 percent return just to start and continues to grow each week. The overall financial gain for just one text message marketing campaign brought in thousands of dollars to the club.
Using the effective marketing methods of Text Message Marketing, Sandbar found for the first time since opening, marketing is successful without having to use printed materials or online support. The SMS marketing campaign at Sandbar continues to grow and drive traffic to the business, especially on the slower nights.
When it comes to marketing for nightclubs and bars, or any business, it is important to choose a marketing method that is not only effective, but one that can save the business money and get you your biggest bang for your buck. As you can see by the stats above, this is completely possible through the ease and effectiveness of SMS marketing!
Save money on printed direct mail, coupons and other listings by choosing a one-stop method of customer-targeted marketing like text message marketing. Using the services provided by TXT180, you can directly reach your customer base without the hassle and expense of print and online advertising.
Using Text Message Marketing for Nightclubs/Bars in 4 Easy Steps!
Pick a keyword at TXT180 – something that reflects your business. For example, a club named Club Neon Lights could pick Neon or Lights as the keyword.
Promote your keyword in a variety of places in and around your club to get people to opt into your text message marketing campaign. Try: "Text LIGHTS to 90407 to get a "free drink" You can use this keyword anywhere you market. Make sure you have fliers in the bathrooms, on the tables, walls and doors. Put it on social media – Facebook, Twitter and Instagram. Encourage opt-ins through any of your marketing channels.
Send messages and start a campaign once you've gotten some opt-ins signed up for your text marketing list. Use this to promote upcoming events, performances, slow nights, ladies night or holidays. Mobile coupons are a great way to incentivize new customers through SMS marketing. For example, "Neon Lights welcomes ladies for FREE tonight! Bring a friend and get a free drink on us! Valid 04/05/2016 Come check us out!"
Increase sales and customer base through regular text campaigns by reminding your customers that you are there!
Ways to get more Opt-Ins for your Nightclub or Bar:
To begin a successful SMS marketing campaign, the most important part is get opt-ins to your subscriber list. This is when your social media outreach can be really helpful in reaching out to your already-existing customer base, which can extend to friends and family of theirs. The more people you reach, the more people they reach, which only bodes well for your business. Table Top Tent ads on each table, fliers in the bathroom stalls, info on customer receipts and more are also effective ways to remind people to subscribe to your text message list. And don't forget the power of word of mouth! Your employees should remind each of their patrons to subscribe. It's easy for an individual to whip out their phone and punch in your special keyword and opt-in on the spot. It can't hurt to provide an initial discount for those first-time subscribers: "Receive a FREE drink by opting in to our text-message marketing campaign! Text LIGHTS to 90407 to subscribe now!"
What types of text messages to send to customers:
After gathering opt-ins, and continuing to build that list, it is important to establish how you plan to use SMS marketing for your nightclub or bar. Will it be a once-per week campaign? Would you prefer to only promote special events and happenings at your bar? Depending on the type of return you are looking for, you can set up your text message marketing campaigns through TXT180 to do just that! Use your marketing know-how to choose the most effective times of day to send the message. The return rate can depend a lot on the value of the offer. Be sure you aren't undercutting your profits by giving too much away in your offers. However, failure to send valuable messages to your customers can also result in ineffective campaigns.
Test out your marketing. Try a variety of campaigns, time frames and more to see what yields the best results for your particular customer base. Try coupon offers, or simply notify your customers about an upcoming event. There are so many methods and combinations of text message marketing ideas that can be used to successfully advertise your business.
Conclusion
As you can see, SMS Message Marketing for Nightclubs and Bars offers any business owner a fun and easy way to reach out to customers directly. Many huge businesses have found success in using text message marketing. Sign up today to find out how SMS marketing can benefit you and your growing business!
Originally Posted on: March 11, 2016

Posted in: SMS Marketing Uses by Industry
Tags: text marketing for nightclubs, text message marketing, text messaging for bars