Top 5 Text Message Marketing Uses for Political Campaigns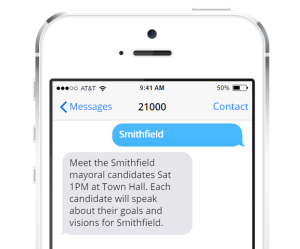 Political candidates are always looking for the most effective way to reach voters. Whether you are running for the town council or for president of the United States, you want to share your agenda with the maximum number of people you can possibly reach. Social media has been a popular way to share campaign messages for the last few years but even more recently candidates have added sms marketing to reach voters.
Top 5 SMS Uses for Political Campaigns
SMS Event Reminders
Fundraising Requests
Text Poll Results
Campaign Agendas
Debates or meet the candidate times and places
The one sure thing that people always have on them and consult on a regular basis (text marketing statistics show the average user checks their phone 150 times a day) is their cell phone. If you can get your political sms reminders to them through this medium, you are already way ahead of all the efforts of your competition. The effectiveness text message marketing for your political campaign is is based on the fact that that every individual opts to receive your messages before you start messaging them anything.
Obama's 2008 SMS Marketing Campaign
In past years candidates have used a number of different tactics to entice voters to opt-in. In 2008 Obama promised to text his choice for his vice presidential running mate to anyone that opted to receive this message. Statistics show that more than a million people opted to receive that message. Once he received their initial permission he then had permission to send them other political messages as well, such as a reminder to vote.
Smaller Political Campaign Text Message Uses
For political campaigns within a smaller area you may offer a chance to win tickets to a favorite local sporting event or a pre-release showing of a highly anticipated movie release. The main thing is finding something that the voters in your area are interested in and will find valuable. Although a sporting event or movie release may not have anything to do with your political campaign directly, it is building a relationship with your voters and letting them know you are aware of and care about the things they care about. Once they make the initial effort to text in, their phone number will be captured and added to your contact list giving you permission to text them again in the future.
Text message marketing is consent based so clients can opt-out at anytime by texting the word stop so make sure you are considerate and careful about the number and type of messages you send. Make sure they are relevant and valuable so that your subscribers don't opt-out after the first couple of messages. If you use text message marketing for politics to keep your followers interested in you and make them feel connected to you and your ideals, it is a lot more likely they will make the effort to learn more about what your political campaign really represents. TXT180 pricing is based on the number of out bound messages, check it out and get started for as little as $1!!
For more ideas on how to use SMS marketing with your political campaign – contact us anytime!
Originally Posted on: June 16, 2015

Posted in: SMS Marketing Uses by Industry
Tags: text message marketing, text messaging for politics, texting for political campaigns